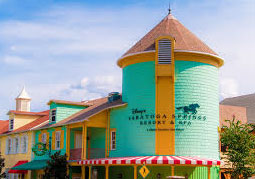 Saratoga Springs Resort and Spa is the larger, sister resort to Old Key West, located directly across from Disney Springs (formerly Downtown Disney). The sprawling facility is themed to remind of the horse and leisure lifestyle of the its real-life New York counterpart. The setting is a walkers delight with well-kept greens and parks as far as the eye can see. It feels almost like a planned community rather than a traditional resort.
Before we get into the nooks of the resort, let us address availability. You may notice on our
DVC rental calendar
that Saratoga Springs is available much more than other DVC resorts. This is true. This stems from the fact that the resort was over-built and some renters gravitate to the resorts on the monorail line first. Do not let that dissuade you from making a Saratoga Springs DVC reservation. The resort is every bit as Disney as all of the others, has a ton to offer, is a terrific pool and dining resort, and is a fine choice for any vacation. But yes, it definitely is easier to book.
As said previously, this resort is a walkers dream. If you like to get out in the air, especially in the morning, and take in the sounds and the sky, the environment is refreshing. Unlike other resorts where the borders drift into other WDW areas, you'll seldom feel out of the theme at Saratoga. Although large, the resort is easily accessible. The bridges and pathways make connecting to all corners pretty easy. If you have a car, parking next to the main pool and food area is ample as well.
FOOD AND POOLS:
Saratoga is the only DVC facility with TWO main, zero-entry pools. This is due in part to its size but that fact is a bonus for guests. In addition, it has a number of high-end quiet pools, one with a view of Disney Springs. Do not miss an opportunity to visit the small ones. As such, we rate the pool experience as this resort as one of the highest in the DVC system.
Speaking of Disney Springs (formerly called Downtown Disney), the name may be confusing to some. Disney Springs is Disney's premier shopping and dining facility while Saratoga Springs is a Disney Resort. But they are side-by-side. Disney Springs' shopping, nightlife and endless food choices can really be considered an extension of the Saratoga Springs Resort with direct access to its offerings available by path and boat. Due to this fact, we consider this the best resort to goto to make use of a
disney meal plan
(DDP). The restaurants at Disney Springs are also easier to get reservations at, so this adds to less stress if you are new to the reservation process at Disney.
Saratoga Springs also has some of the best food in the system on-site. Its quickservice menu with wraps, sandwiches, flatbreads and homemade chips is one of our favorites, especially when visiting the main pool. And its steak house is a great night out for the adults in the party.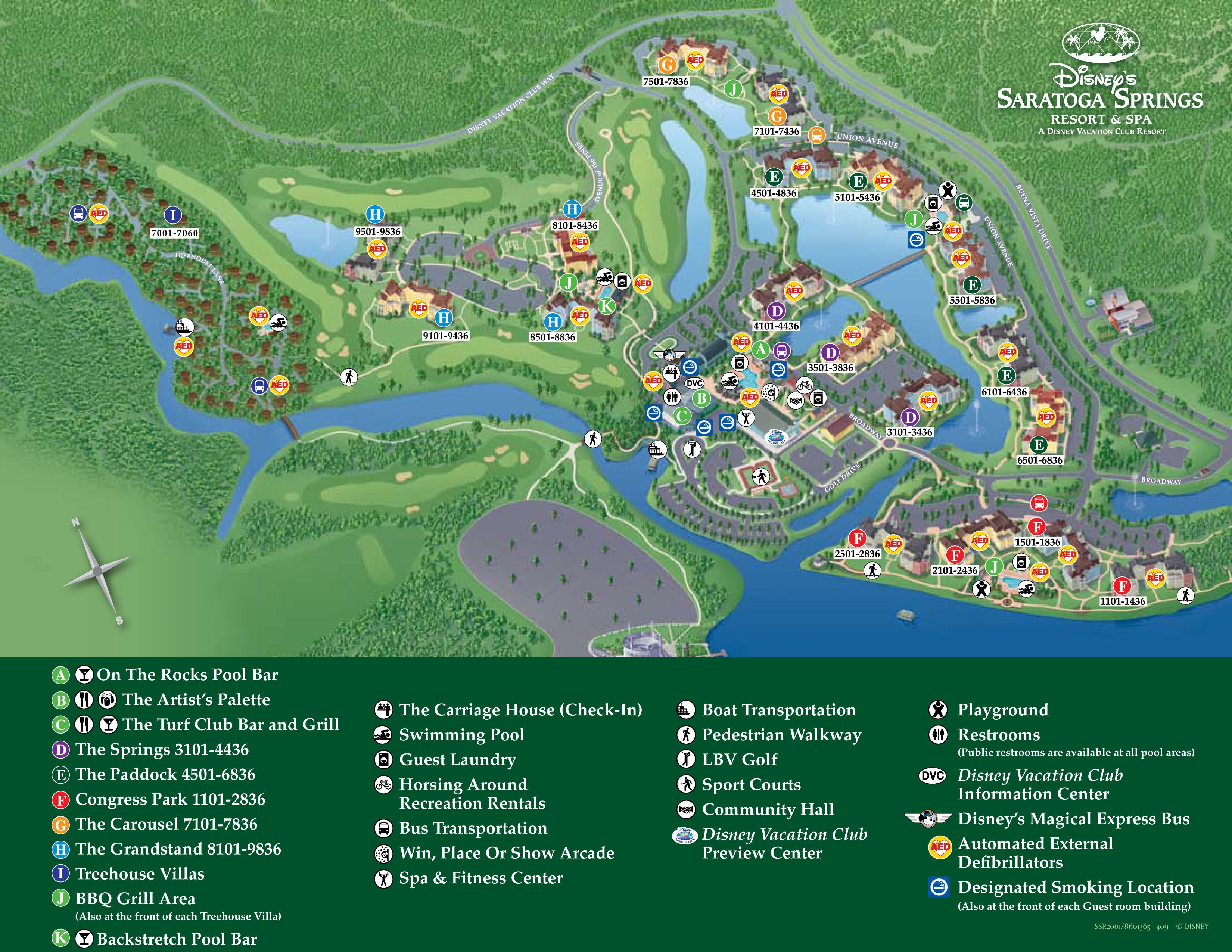 AGE GROUP PLEASING:
One of the things we like most about Saratoga is its wide range of experiences, especially from an age perspective. Younger kids have access to tons of pools, have plenty of room to run and play. Older kids have unique, direct access to Disney Springs and its night-life. Adults can let the older kids go and take a few hours to themselves, perhaps walking the grounds or taking in the enhanced spa facilities next to the main pool. Due to these varied experiences, Saratoga Springs can be used as a parkless vacation if one desires. We make the same recommendation for the
Beach Club
DVC resort due to its large pools.
ROOMS:
The rooms are pretty standard for DVC rentals, with Boardwalk, Beachclub and Saratoga built with almost identical configurations. As of the moment, the studios sleep four although they are the same size as the BC and BW ones that sleep 5. We certainly do not recommend a room that size for more than 4. They are all set in "condo apartment complex" buildings with elevators provided. As of 2017, areas near the main pool and with Disney Spring views are designated as PREFERRED VIEWS with slightly higher rates. If you don't care about your location, don't spend the extra money. As all units have easy elevator access, there is no real advantage to any specific floor. We suggest putting in a request to avoid the Carousel area (see
Saratoga Springs resort map
) since its the farthest walk. More room suggestions and reviews from YELP:
here
.
You will find that the resort prices are some of the lowest per night in the Disney Vacation Club system and it is relatively easy to get a reservation compared to other units. Still, the resort does get busy during peak seasons and sells out just like any other Disney property, so if you want to plan any stay over 3 nights in length, we suggest booking at least 5-6 months out. Holiday and peak periods should always be booked 10 months out.
Distance to parks by bus:
Epcot and Hollywood Studios is about 10 minutes away, the Magic Kingdom 15, Animal Kingdom 15-20. Downtown Disney is just down the road.
Stay recommendations:
Families of 4 or less fit fine in the deluxe studios. Larger parties or groups staying for longer than 5 days should opt for one and two bedroom villas.
Transportation hints:
This resort is a great one if you have a rental car as parking is so plentiful. When using the main pool, try parking at the 3500-3800 parking lot, which is routinely half empty.