Disney's Beach Club resort is unique in the Disney Vacation Club system. It is built around a network of pools which are stunning and we will get into those later in detail. The theme for the beach club is grand new england coastal living with the colors light blue and ocean green on virtually every building in the complex.
Unlike other DVC resorts there is a massive number of things to do at night. The Beach club is located on a circular lagoon. A walking bath links you to the entire Boardwalk resorts with its stores, games and restaurants, the Swan and Dolphin as well as directly to Epcot center. You can enter Epcot by foot right next to france or take a boat to the same area. We recommend the walk as it only takes 10 minutes and the boat can take up to a half hour as it moves incredibly slowly.
Like many of the other DVC facilities, the Beach Club was built along a non-DVC resort (
the yacht club
) with the properly divided in half between the two. However, even though they sit side-by-side, they are isolated and except for the pool areas residents don't usually mingle. The yacht club is a business class resort and frequently houses guests with full business clothing due to its convention center. The beach club on the other hand is more casual.
The DVC facilities of the beach club are located in the back of the property in their own building and their views are pretty restrictive which is one complaint we do have. Disney reserved all the good views in the complex for non-DVC buildings. Rooms are interior corridor with setups much like Saratoga Springs and Boardwalk. You will find the rooms a bit cookie cutter in design, however, you won't come here to stay inside.
A complete
interior redesign in late 2016 (our tour video shown above)
added a superb new color scheme, better quality fixtures and a pullout bed for a 5th person in the deluxe studios. The added capacity does remove a desk though, so we do suggest going to another rental if you want to work and have a family of more than 4. A pop-up coffee table that could have doubled as a desk would have solved this issue.
Dining facilities are top notch. The signature restaurant is Cape May, which hosts a seafood buffet which has been voted by us as the best buffet value in all of Disney. If you love seafood, make reservations early for this one. You won't be sorry. Note that Cape May only serves in the evening. In the pool area you have access to a full service snack and sandwich shop as well as
Beaches and Creme
which serves ice cream in both take out and sit-down fashion. Make sure to try the ice cream creation 'kitchen sink' which can literally feed an army. There is really no interior sit-down eatery. The gift and souvenir shop has hot meals, however, seating is oddly sparse. You have to get a seat in the hallway or in 3-4 outdoor spots that are along a walking path. This is (by far) the largest complaint about the Beach Club we have. No one wants to eat with people looking and tripping over you. It could be easily fixed as there are empty and unused spaces in the complex that would be better used with formal seating.
Ok...now onto the pools.
Most DVC resorts contain one feature pool (noting that Saratoga Springs has two large ones). The Beach Club is literally one network of pools. They are stretched out facing the lagoon and you can literally spend your entire trip just exploring them. Oh, did we mention the pools have SAND BOTTOMS? You read correctly. The pools have a special filter system and their floors consist of a good foot of sand. You will never swim in a regular pool again without thinking of this experience.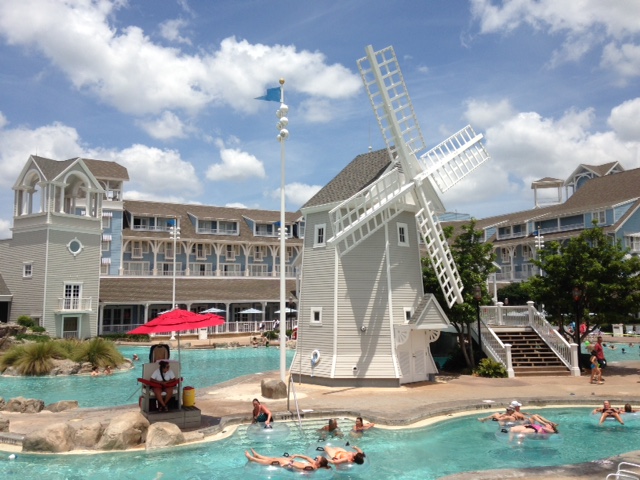 The main area consists of waterwalls with shallow areas which lead to a whirlpool. There are safe areas for kids and deep zones where only the adults roam. If you want to have swimming privacy and not get splashed, this is the resort for you. A lazy river with some of the deepest water in disney awaits you as well. Due to the deep water, smaller children are usually not in this area which makes it a relaxing spot for the adults in parties. Next to that is a unique toddler area with water levels that are only two feet deep. Smaller children can build sand castles and play in this area while adults look on from their chairs. We could go on and on writing about these features but they are just something you have to experience yourself.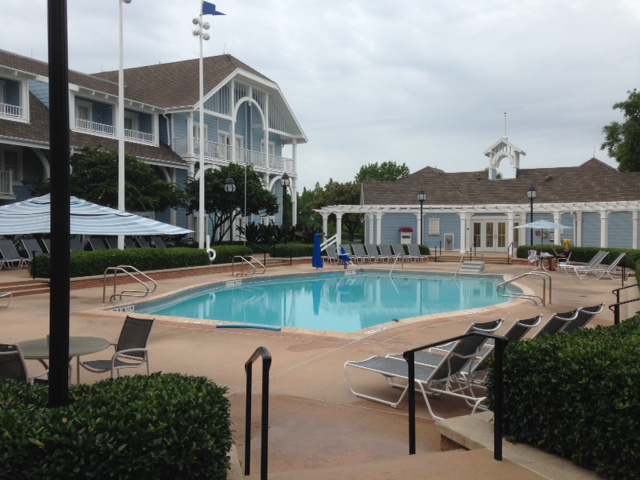 If you get tired of the main pools and the noise, smaller isolated pools surround the DVC building as well. Typically you will find less than 10 people in these pools at a time and they are great for quick night swims. They also tend to be warmer than the main pools.
Privacy
: One feature of the Beach Club that you may enjoy is its privacy. You must be a guest of the Beach or Yacht club to get access to the pool areas. There are no exceptions. This is different from most other DVC facilities which allow you to pool hop. Even Boardwalk patrons, only a short walk away, can't get into the Beach Club pools.
Value and availability
: The point totals for beach club nights are surprisingly affordable. The pool access makes this resort a massive value. You can literally spend your entire vacation resting at the pools and not step into the parks and you will have had a great time. Due to the fact that this resort is connected to Epcot, it is in extreme demand during the Food and Wine show and the Flower show. You will need to plan 7-12 months out during these times. 3-4 night stays during other periods can usually be found 5-7 months out. You may have problems if you plan later than that.
Distance to parks
: Epcot is a 10 minute walk. Hollywood studios and Epcot are 20-30 minutes by ferry. Hollywood studios is 5 minutes by bus. The magic kingdom is 15-20 by bus. We recommend avoiding the ferries as the system is slow, unless you want to go for a night cruise and just relax.
Stay recommendations:
Families of 4 fit fine in the deluxe studios and a fifth may be added using a pullout bed but it is snug. Larger parties or groups that need to work should opt for one and two bedroom villas.